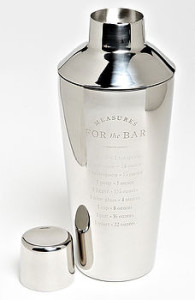 Any home bar owner knows that there are different types of cocktail shakers for mixing drinks. You can choose the popular Boston shaker, the Cobbler shaker, or the French shaker. Bartenders can also opt for designer and novelty cocktail shakers featuring unique designs. Do proper research and learn about the different types of shakers before choosing one. If you're passionate about cocktails, you need quality bartending tools and equipment.
Boston Cocktail Shakers
The Boston cocktail shaker is made of stainless steel and has two parts: a tumbler and a mixing glass. Some models feature a small cap and a strainer for increased convenience. This type of shaker is used in bars and restaurants from all around the world. The two parts can be easily interchanged. If you want a cocktail shaker that is versatile and easy to use, look no further.
Cobbler Cocktail Shakers
The Cobbler cocktail shaker consists of a lid with built-in strainer, a mixing body, and a cap. It comes in a wide range of styles and designs, featuring bold shapes and exquisite details. Some models can be engraved with a message of your choice. Do a quick search online and you'll find cocktail shakers made from gloss finished food grade stainless steel as well as football shaped Cobbler shakers, bullet shakers, and stylish cocktail shakers with faux diamonds, painted glass, and beads.
French Cocktail Shakers
The French Cocktail shaker is much easier to use than the Boston shaker. It doesn't have a mixing glass, so it won't break. This type of shaker features a lid and a mixing tin, and requires the use a hawthorn strainer. Most models have a sleek design and stainless metal finish that stands out. This kind of shaker is ideal for cocktail mixers of all skill levels. If you have your own home bar, consider buying a French cocktail set. Many online stores sell kits that contain everything you need to mix drinks easily.
The Internet is the best place to buy a unique cocktail shaker. With a few mouse clicks, you'll find penguin shakers, glass shakers, and personalized cocktail shakers in fun shapes. Some are decorated with Swarovski crystals and beads, while others have built-in stirrers and play music. You will also find cocktail shakers insulated with fine-stitched black faux leather or adorned with real diamonds. With so many options out there, choosing the best cocktail shaker won't be easy.