Seriously, let me ask you something.
Are you like me and enjoy having a few drinks with friends and family but are tired of the same old bar scene or hanging out in awkward places?
Sick of insanely high bills at the end of the night and the annoying drunk people you can't avoid?
Risking getting a DUI or paying for taxi cabs just to safely to the bar and back again every time?
Maybe the problem is that you have kids or other responsibilities that makes it difficult to go out and let loose like you used to?
Would you enjoy having a great place to entertain guests in your own home that would keep them wanting to come back again and again?
Would you like to always be ready to roll when those surprise guests show up or that unplanned party pops off?
Maybe it would be nice to have that perfect place to go to when the bars close just a little too early?
Well if you ask me there is one solution that will take care of all of this and more!
That's right it's having your own kick ass home bar that you can use however you want and whenever you want…
If that's something you might be interested in, then we are here for you!
What we did is create an entire site designed to make setting up your first home bar easier than you can possibly imagine!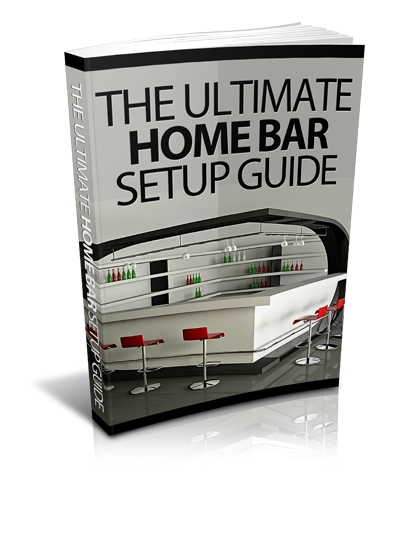 17 straight-forward, no B.S. modules of easy to digest information, that will take you step-by-step to setting up the home bar you want.
This information was designed to save you frustration of not knowing what to do and prevent wasting your valuable time and money in the process!
And the end result will be something you can be proud of!
How to quickly figure out exactly what kind of bar is perfect for you! (choosing the wrong kind will likely be a waste of money or slightly embarrassing…)
The crucial planning stages you don't want to screw up. (get these wrong and your guests will end-up hanging out in the kitchen!)
How these two crucial things _______ & ________ can completely change your entire home bar experience!
How to easily choose and setup some of the best bar themes (nothing worse than no theme except for a pathetic excuse for one!)
Why lighting can make or break your home bar experience and how not to screw it up!
The one cheap thing you need to get to save money on liquor and look like you have a clue about bartending!
How to display, store and use your liquor bottle collection the right way (not doing this puts you in wannabe status faster than you can finish your beer!)
The three things you need to know to ensure your beer never gets funky! (nothing worse than looking forward to that first sip and…blah!)
19 types of glasses for 19 different purposes (if want to finally learn what kind of drink goes in where, don't skip this one!)
Which groceries to keep at your bar at all times and what to get right before the party (if you want to avoid running to the store in the middle of a party or bumming out your guests, this ought to help you out!)
How to stock your bar quickly and correctly without overspending (do this wrong and you will either spend a fortune on a bunch of stuff you don't need, not have the right stuff you need or even worse, both!)
Contractors…sometimes the necessary evil. (hate to say it, but sometimes you have to admit when you can't do something yourself and get someone that can…and how you can make this as painless as possible!)
How these 11 different bar surface types can influence the look, feel, cost and maintenance of your bar!
The one bar feature that you rarely ever see but you always immediately know when it's not there!
The 6 bar appliances that make our lives easier and our bars legit!
Makeshift bars made simple! (you know, those times when you need to have an awesome home bar but you have to do it Macgyver style with whatever you find around you??)
The 26 cheap bar accessories you will look silly without!
And much, much more…
Your entertaining capabilities will instantly climb to whole new level!
You'll love always being able to set the scene exactly the way you want to.
Your friends and family will have a place they feel very comfortable hanging out at.
Everyone loves the feel of being at a bar without actually having to go to one.
It's a great alternative to the same ol' local bar scene and all the dangers and drama that can come with drinking in public!
It gets many back into the spirit of being at a bar again because they are in a safer more controlled environment instead!
It serves as a great place to bring friends back for an after party on those nights the bars seem to close just a little too early!
It will make your place more organized by having a designated entertaining area.
It keeps guests from hanging out in the kitchen or other areas of the house you don't want.
An alternative to being forced to listen to bad music or even worse Karaoke!
Your favorite drinks are always in stock!
By upgrading unused space in your home it can actually add value to it.
The more you use your own bar instead of going out, the more money you'll save!
And last but not least, you'll never, ever, EVER get cut off for falling off your bar stool! 😉
And much, much more…
We've included a few bonuses for you.
You see, when we originally created "The Ultimate Home Bar Setup Guide", there was even more stuff we couldn't make fit into the book.
However, it was still really valuable, so we decided to make it into a guide of its own and add it as a bonus to really enhance this package.
We went back and basically "brain dumped" all the valuable stuff we had left over and when we were done, we had created this additional guide.
Bonus #1: The Newbie Home Bartender Survival Guide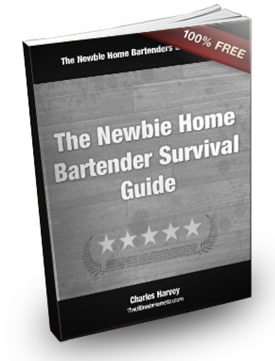 So you'll learn, all the necessary bar terminology and techniques so you'll look and sound like you know what you're doing and you can give your guests a real bar experience.
How to garnish cocktails, make awesome drink recipes, shot recipes, martini recipes to enhance everyone's experience and keep them coming back.
Even some whacky bar tricks and jokes you can use as ice breakers if you ever need to break the tension or to help get the party started.
Lastly some important safety tips and how to handle your bar like a pro so you'll always stay in control of your bar and will never have to cut the party short.
Bonus #2: The Bar Masters Software With 2,300 + Cocktail Recipies

The Bar Master Software is a collection of over 2300 of the most popular cocktail recipes that you can quickly browse! (Currently for Windows systems only)
The Bar Master Software is easy to use, and you can easily and quickly find the cocktail recipe you are looking for with it's keyword search feature or by alphabetical listing.
Bonus #3: Food and Drink Ideas for Planning for Any Occasion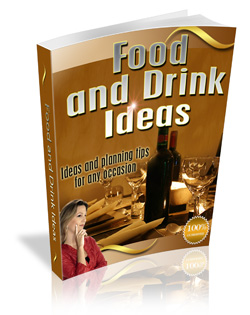 The Dinner Party on a Budget
How To Be Ready For Drop-In Entertaining
How to Have a Successful Pot-Luck Dinner
How to Turn Any Dish Into a Diet Friendly Dish
Make Any Drink More Festive
Ideal Cocktails For Brunch
Unique Dinner Party Themes
And more!

Barely anything…just a small amount to happily give you instant access to the information we have that will skyrocket your home entertainment!

We figured if we just gave you a lot of good stuff at a reasonable amount, we'd all come out ahead.
So for less than the price of a plain cheese pizza, you'll get instant access to all the secrets you'll need to setup the home bar you want in no time and begin enjoying it ASAP!
Go ahead and get instant access to the "The Ultimate Home Bar Setup Guide", membership site now and start going through the different modules..
Even print a copy of the Ebooks if you want, and if you don't find something in the first five minutes that makes it completely worth it, I demand that you contact me and I'll return your payment no questions asked.
And of course, if at any time during the next 60 days you decide this isn't for you, simply email me at john@theultimatehomebar.com and I'll immediately return every penny.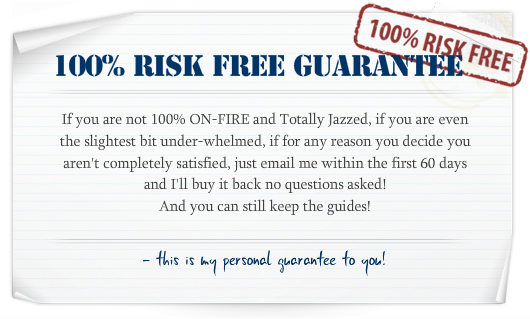 The Ultimate Home Bar Full Setup Guide – Totally eliminate the guesswork that results in wasted time, money and weak home bars!

(Retail Value $37.00) Total $37.00

The Ultimate Home Bar Membership Site – The quickest and easiest way to navigate this step-by-step system for setting up your awesome home bar! (Retail Value $47.00) Total $84.00
The Barmasters Software – The awesome drink recipe database with 2,300+ recipes! Keep it near your bar to have the best drinks at your fingertips! (Retail Value $27.00) Total $111.00
The Book of Food and Drink Ideas – Make even a last minute party seem like you've been planning for weeks! (Retail Value $17.00) Total $128.00

Grand Total: $128.00

Your Limited Time Price:

$9.95
Massive value for less than a cheese pizza!

Just click the "Add To Cart" button NOW and you'll receive INSTANT ACCESS!
All the best,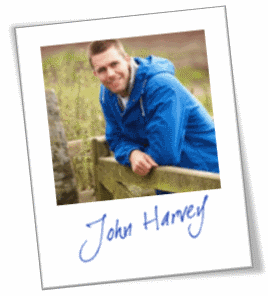 P.S. Remember, you have nothing to lose because of our 60 day money back guarantee.
So what are you waiting for? I'll See You On The Inside!
P.S.S. If you don't take advantage of this offer, you're only cheating yourself! There is no reason you can't enjoy yourself more in the comfort of your own home like others are doing every day!